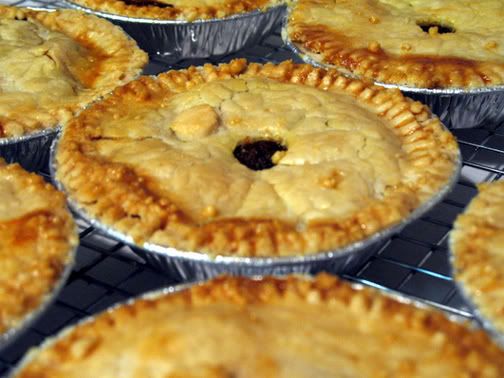 Thank goodness for leftovers...and generous parents :)

Spent part of yesterday making turkey pot pies from the uneaten bits of Christmas Dinner. I declared 2005 "The Year of the Tart" and I was bound and determined to make a decent pastry. Well...I'm better than I was a year ago, but I still need more practise--don't have a food processor, so its all done by hand--I simply have to keep in mind that I'm not making bread dough (grin).

The pastry is a basic short crust--for eight "medium" meat pie tins: 600g pastry flour, 200g shortening, 100g butter and iced water. The filling was a combination of turkey, veg, gravy and a spoon of cranberry sauce in each pie. Brush the tops with beaten egg and bake at 350 until done.
I still have more turkey meat around...should get back at it...
cheers!
jasmine



tags:
Savoury tarts
Turkey